When I started costuming almost 20 years ago, I restocked clothes on 8 Mile all day, went home and dreamt about restocking those same clothes, then went back to for real restocking the next day(s). Twenty-four hour restocking! Fun times.
On The Unborn, Sukari McGill and I hand-drew on an entire silk chiffon dress to recreate one that we couldn't get a double of. We worked until the sun came up the next day and were of course delirious by the end but the dress looked amazing.
A few years ago, I soldered showgirl bra and undies and covered it in Swarovski crystals. It was super fun learning how to solder, and now I'm pumped to have that skill.
All of my design jobs start with a ton of research. Whether it's figuring out the current looks of Chicago's Southside, or the seedy backwoods of a 1970's small-town, I've spent days sorting out costume details for whatever environment is called for.
Thankfully I've had the opportunity to work with some insanely talented people and learn from them. Being brought up through every aspect of a Costume Department has taught me how important every role is, and how it directly relates to the awesomeness of a Designer and the success and legitimacy of a show.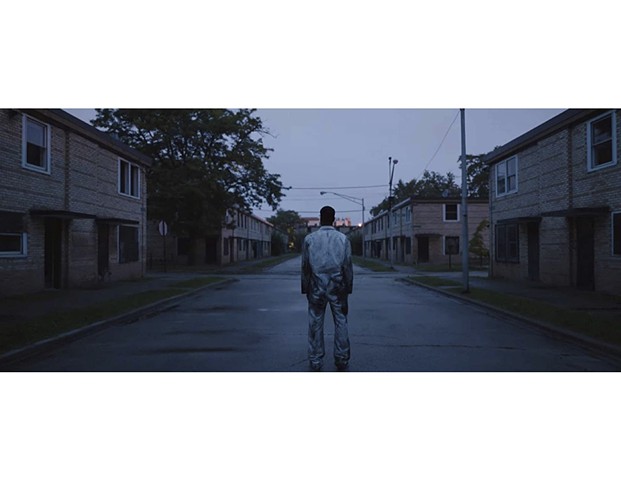 Yahya Abdul-Mateen II as Anthony in Jordan Peele's Candyman
My life-long interests in costume, art, design, and research help me attack each project with creative thinking, versatile sensibility, and the ability to adapt to any genre, period or budget. My departments run with great efficiency and professionalism, with an emphasis on being around people who are fun to be around. New projects are greeted with a fresh artistic eye, and boundless optimism, while my background in artist's communities and local music scenes lend an unexpected and original look to my work.
Along with commercials, my most recent work includes Costume Designing the Jordan Peele film Candyman. A "spiritual sequel" to the 1992 horror film 'Candyman' that returns to the now-gentrified Chicago neighborhood where the legend began.
When I'm not Designing films, I design swimwear for my company, Fenton Fox, travel as much as possible, and pet any dog within sight. Being based in Chicago since 2001 keeps much of my work here, but my love for travel ensures that I'm happy to go anywhere, big city or the middle of nowhere.